River, lagoon and sea bring resort visitors with lots of activity options
Published: 28/05/2020 01:58 Hit: 591
Walking along a beach sloping gently to the sea when the sun slowly dips beyond the horizon; the smell of wind, sand, water and seafood contributes to an alluring sense of happiness.
The 12km-long Thuan An Beach lies about 70km from Lang Co Beach, a member of the World's Most Beautiful Bays Club. From the city centre, it takes only 15 minutes by taxi, half an hour by motorbike or 45 minutes cycling to access it.

Thuan An Beach is located near Huong River where runs into Tam Giang Lagoon and on towards the sea. Special geographical features and climate conditions have formed a stunning beach, which transforms itself season by season. I have visited the beach thrice already, each time greeted by another of its lots of faces.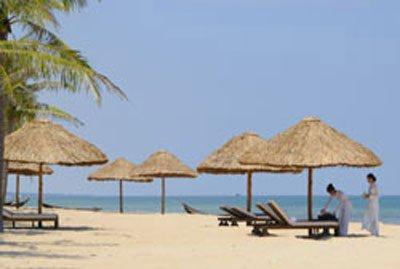 Free and easy: A view of unpopulated Thuan An Beach.
The hottest months are from May to July, a wonderful time for sunbathing and swimming. Near the sea, average temperatures vary between 24-25oC and can reach 28-29oC during summer. Thuan An is both mysterious and graceful, benefiting from as yet little tourism development.
After 20 minutes driving from the city centre, I arrived at the Ana Mandara Hue Resort, attracted by the splendid architecture of the replica Thanh Toan Bridge and traditional nha ruong (garden house), typical styles from Hue.

Quiet sounds and vistas of the sea welcome guests to the establishment, distinguished as the only beach resort with pool villas in the city. From the resort's 400m-long private beach I find it near impossible to distinguish between the sea and sky. A couple from Sweden spent 6 nights here with their 14-month-old son, first staying in a deluxe room before upgrading to a beach villa, which came highly recommended for families.

"The spacious villa comes equipped with a king-size bed, a isolated lounge area and an amazing bathroom complete with outdoor shower," the couple reported. "The non-touristy beach boasts many restaurants serving delicious fish dishes, local kids immersed in football games and fishermen in traditional gear going about their business without disturbing a single soul."
Ana Mandara's off-the-beaten-track excursions consist of journey to Thanh Toan Bridge, Hue Imperial Palace, a UNESCO World Heritage Site, and villages along the city outskirts.
I spent one day playing in the waves, lying on the beach and enjoying spa treatment before heading over to the beautiful Tam Giang Lagoon, dotted with small boats and junks along its left bank together with houses, temples, pagodas, rice fields and gardens on its right.

The lagoon created where the Huong, Bo and O Lau rivers meet before flowing into the sea via the Thuan An Estuary. The area's many traditional craft villages and mangrove forests have made it a famous tourist destination. Tam Giang is the largest lagoon system in Southeast Asia, covering an area of 22,000ha, an ideal habitat for lots of species of sea life.

Visitors can enjoy catching fish with locals or sampling Chuon Village wine and fresh seafood. Choosing for the road less travelled, I participated a cyclo tour along the town's quiet lanes and canals, sipping coffee on the sidewalk, lunching in typical restaurants and contemplate a gourmet picnic on a secluded beach. Furthermore, tourists are able to visit Ngu My Thanh Village to study the ins and outs of fish farming as well as Thuy Lap Village to weave a spot of rattan.

A tour named Wave and Water in Tam Giang was launched one year ago and has received a good response, according to Ngo Hoa, vice chairman of the Thua Thien-Hue People's Committee. "The tour affords travellers more choices, diversifies provincial tourism services and contributes to developing the economy for traditional trade villages in the region," he said. "I think we should improve tourism awareness among locals and offer them a chance to introduce their handicrafts to guests."
Source:vietnamnews

An agreement on visa exemption for diplomatic and official passport holders signed between Vietnam