The Vietnam National Administration of Tourism VNAT has spent lots of money on tourism promotion campaigns. But the costly programs prove to be unprofessional and ineffective.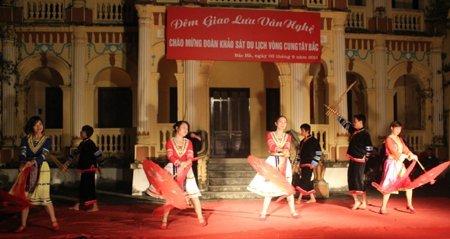 Fastening belt in economic downturn
VNAT has suggested a mechanism on budgeting tourism promotion campaigns, under which one dollar earned from every traveler to Vietnam would be re-invested to advertise and stimulus Vietnam's tourism in domestic and foreign countries.

With the mechanism, the more foreign tourists to Vietnam, the higher budget for tourism promotion campaigns would be allocated. In 2011, for instance, Vietnam received 6 million travelers, it means that Vietnam should reserve 6 million dollars (120 billion dong).

However, in reality, the budget for tourism promotion activities has been cut down year after year. Nguyen Manh Cuong, VNAT's Deputy General Director, said Thailand and Malaysia spend 80-100 million dollars a year to promote their tourism. Meanwhile, Vietnam would have only 2 million dollars this year for the activities.

In principle, the budget of 2 million dollars would be accessed to different agencies. It is estimated that 70 percent of the sum would be put under the management of VNAT, while 20 percent would go to the International Cooperation Agency, and the remaining to some little projects. The dispersing of the resources is believed to be not a good choice, because this would lead to the overlapping and low efficiency.

The limited budget is really a huge barrier that hinders the advertisement and promotion activities. Though VNAT attends foreign trade fairs to stimulus Vietnam's tourism, it lacks money to hold supporting events like press conferences, reception or visual promotion activities.

The representative of Sao Viet travel firm said that the lack of money makes the Vietnamese booth at trade fairs dim and unattractive. Meanwhile, some huge travel firms and the national flag air carrier Vietnam Airlines, which are believed financially powerful, all have their own stalls and they disapprove to display their products and services at the national tourism booth.

Cut your coat according to your cloth

Pham Trung Luong, Deputy Head of the Tourism Research and Development Institute, said it's clear that the budget cuts would badly affect tourism promotion activities. But the budget cut proves to be unavoidable for now, it would be better to discuss about how to use the modest sum of money to promote tourism.

Luong said that while Vietnam lacks money, it still wastes money on the things which cannot bring effects. Travel firms have lots of times complained about the unprofessional way of the watchdog agencies in holding the outbound trips to join foreign trade fairs.

Vietnam once brought many leaflets to a foreign trade fair to stimulus tourism. However, the leaflets were then left at the Vietnamese embassies in the countries.

There could be 2 reasons behind this. Firstly, Vietnam brought to the trade fair the products which were not interested by travelers. And secondly, Vietnam did not select the right way of doing marketing: while people try to look for tourism information on Internet, Vietnam only bring printed leaflets and brochures.

"One should not blame everything on the lack of money," Luong said.

He believes that Vietnam needs to study thoroughly about a market before it plans to access the market. Opening representative offices in the foreign markets proves to be the best way to study about the new markets. Besides, the offices can also act as the bridge that connects Vietnam's tourism with local travelers.

However, to date, Vietnam still has not offices in foreign countries, even in Japan, considered the most potential market for Vietnam.
VietNamNet/Viet Nam News

An agreement on visa exemption for diplomatic and official passport holders signed between Vietnam