The top 12 selected winners from across the country took part in the final round of 'Sao Mai Diem Hen 2012' (Morning Star Rendezvous) singing contest in Hue City on June 9.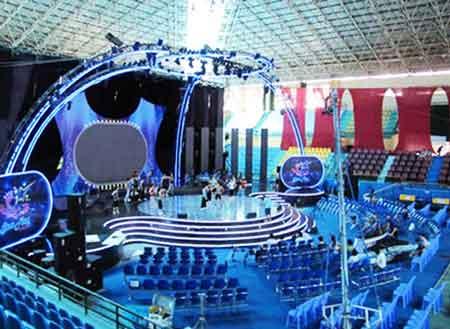 'Stage set for the 'Sao Mai Diem Hen 2012' singing contest.
While in Hue City, contestants will have a chance to visit famous destinations like the Hue Imperial Citadel, Phuoc Tich ancient village, Cau Hai-Tam Giang lagoon, Lang Co Gulf. They will also enjoy Hue cuisine, art and handicraft products and local indigenous culture.

The 'Sao Mai Diem Hen' contest was first organised by Vietnam Television in 2004 and was a great success.

This is an occasion for young, talented singers to show their skills in fields of folk-singing, opera, pop, rock, etc. The contest is regarded as one of the biggest national music contests.

There will be live broadcast of the final round of the contest on Vietnam Television channels 2, 4 and 6 and will run repeats until August 11.

* Actor sings about scandalous showbiz

In a time when the local show business is going through dark days full of numerous scandals, a song has recently been spread widely on the Internet due to its content focusing on the seedy side of the entertainment industry.

Titled "Scandal showbiz," the song, written and sung by local actor Khuong Ngoc, mentions recent scandalous incidents including performers revealing their bodies on stage, artists showing off their luxury lives, and celebrities telling lies, as well as the industry' the industry's temptations.

The song's writer also expressed the desperate feeling of people who are involved in the scandals.

Many netizens have said that the lyrics are very meaningful, though the melody is not really catchy; while some say that "scandal makers must feel embarrassed upon listening to this song."

However, Khuong Ngoc said that his song is not about the recent scandalous time of Vietnamese showbiz.

"The song was written for a new film by director Victor Vu. I also play a role in it. It's just about all of my feelings on taking part in the movie," Ngoc shared.

"I myself didn't expect that it would be so well-received," he added.

An agreement on visa exemption for diplomatic and official passport holders signed between Vietnam