Seventy original sculptures and paintings by artist Nguyen Nhu Y, long known as "Crazy Y" among Ha Noi artists, are now on display at the Viet Art Centre in the capital city, in an exhibition organised by his friends two years after a serious accident caused Y to lose his leg.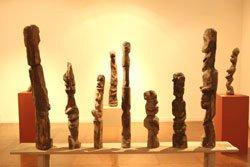 Crazy house: Sculptures are inspired by the shapes of the charnel-house statues of some Central Highlands ethnic groups. (Photo: VN
"For a long time, we've have always asked who we are and where we come from," Doan said. "This exhibition can help us to reply those questions. Y has a true talent. He can say what he desires to say in the language of art. He has contributed immensely to the fine arts of Viet Nam."
Y was born in 1970, he became famous for his love of adventure and willingness to do many strange things.
"He was close to nature, like a wild animal," recalled Thuong. "He liked living in nests made from firewood or being buried underground. He loved eating things that no one else would eat. He used to carve sculptures any where and then sell them cheap, at the price of a bundle of vegetables. And then he spent the money on parties with his friends. His sculptures reflect the innocent soul of a unwise person in life."
At the age of 40, Y should be in his prime as an artist, but two years ago, he lost his left leg in an accident and subsquently came back his native
village
in Ha Noi's outlying Soc Son District, where he is working as a farmer to earn his living. On crutches he has made himself, he goes to rivers everyday to catch shrimp and fish and sell them at the market. He has nearly given up on his art.
His friends decided to hold an exhibition for him in the hopes that they could attract him back to the arts scene in Ha Noi, where he has always been a talented artist living a simple life and disinterested in money.
According to Si, one of Y's friends, "The exhibition aims to mobilise Y's friends and fans to come and buy his work. The money gathered money will be offered to the
artists
, at first to buy an artificial leg, and after help him have some funds to make his life less difficult, so as he are able to return to his work as an artist." says Si.
The exhibition continues through Wednesday at 42 Yet Kieu Street in Ha Noi.
VietNamNet/Viet Nam News

An agreement on visa exemption for diplomatic and official passport holders signed between Vietnam