People living in the Song Hong (Red River) Delta are preparing to celebrate the Huong Pagoda festival 2013, which a local official has promised will be the biggest ever.

Nguyen Van Hau, Deputy Chairman of the My Duc District's People's Committee, has promised that the festival – which is celebrating both the Lunar New Year and the beginning of the National Tourism Year in the region – will impress with a wide range of activities, exhibitions and spectacle following the theme 'Traditional Features of Vietnam Culture."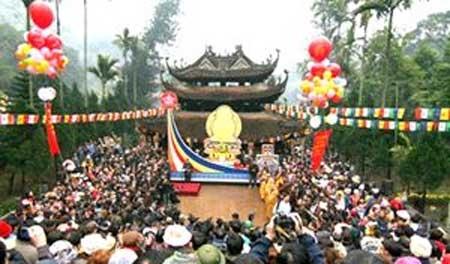 The Huong pagoda is a vast complex of Buddhist temples and shrines built into the Huong Tich limestone mountains in My Duc District's Huong Son Commune, about 60km from central Ha Noi.
Festivities will begin on the sixth day of Tet (February 15) when visitors can enjoy a photography exhibition of ancient Vietnamese Pagodas and watch birds being released on the picturesque Yen Spring.

The Huong pagoda is a vast complex of Buddhist temples and shrines built into the Huong Tich limestone mountains in My Duc District's Huong Son Commune, about 60km from central Ha Noi. The site is most crowded during the festival, which takes place during the first three months of the Lunar New Year.

Source: VNS

An agreement on visa exemption for diplomatic and official passport holders signed between Vietnam