A fine art exhibition themed "Colour of Vietnam" opened in Italy on January 16, kick-starting Vietnamese Cultural Days in the European country.
Jointly held by the Vietnamese Ministry of Culture, Sports and Tourism and the Vietnamese Embassy in Italy, the eight-day event is part of activities celebrating the 40th anniversary of Vietnam–Italy diplomatic ties.

Umberto Postiglione, a leader of the province of Rome, described the event as a symbol of solidarity demonstrating the fine development of bilateral ties between the two countries.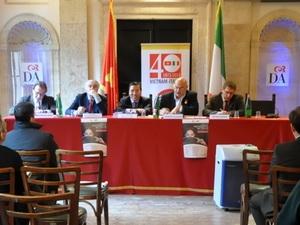 A painting exhibition illustrating the solidarity between Vietnam and Italy from 1960 to 1970, co-organised by the Italy–Vietnam Friendship Association and the Vietnamese Embassy in Italy, opened as part of Vietnamese Cultural Days on the same day with Vietnam travel guide.

Among the exhibits are works of art depicting the Australe vessel's trip carrying 3,000 tonnes of cargo for the Vietnamese to Hai Phong port in 1973, "Vietnam Week" from January 6-13, 1973, and an international anti-war demonstration in May 12, 1973, in Milan.

Vietnam and Italy established diplomatic ties on March 23, 1973. Over the past 40 years, the two nations have seen a growing friendship and cooperation in various areas.
Source: VNA

An agreement on visa exemption for diplomatic and official passport holders signed between Vietnam