Two new airports are going to be constructed in the southern province of Dong Nai and the northern city of Hai Phong.


A meeting chaired by Deputy Prime Minister Hoang Trung Hai was held on November 15 to guide the implementation of the two projects.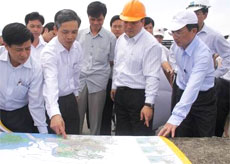 Construction of Long Thanh International Airport in Dong Nai will be divided into two phases. Phase one will be completed in 2020 and phase two should be finished by 2035.
After being put into operation, it will have a projected capacity of 80-100 million passengers and 3 million tonnes of cargo each year.
The total capital needed for the project is estimated to be US$6.74 billion. This is being mobilised from a number of sources including the State budget, official direct assistance (ODA) and other organisations and individuals.
Located in Hai Phong City, Tien Lang International Airport will replace Cat Bi Airport.
It will cover an area of 4,000ha across four communes of Tien Lang District.
The Ministry of Transportation has been assigned to carefully assess and study the exact location, capital and infrastructure conditions of the project.
When complete, it is hoped the airport will meet the demands for air transportation in the northeast region.

An agreement on visa exemption for diplomatic and official passport holders signed between Vietnam