The necessary investment restores historical Da Lat cog railway
Published: 07/02/2023 10:13 Hit: 1941
Central provinces of Lam Dong and Ninh Thuan are requiring for investment to restore the 84km railway connecting the coastal Phan Rang – Thap Cham City in Ninh Thuan Province and the mountainous resort city of Da Lat in Lam Dong Province.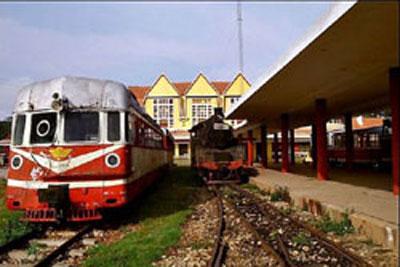 Back track: An historical railway in the mountainous resort city of Da Lat in Lam Dong Province, one of the most attractive tourist destinations in the area, is in need of restoration. — File Photo
The restored project which would cost VND5 trillion (US$238 million), was officially approved by the Government in 2007. The 84km cog railway was built by the French in 1928, was destroyed in the wars and discarded in the late 1960s. It is only one of two such railways in the globe; the other is in Switzerland. Though it was scheduled to be restored and put into use by 2015, the project is still on paper.

The restored project is a part of the two provinces' tourism-development plan through 2020. A portion of the track, 7km between Da Lat and Trai Mat, has been rebuilt and operated for tourism purposes since 1997. At present, the station is one of the most impressive tourist destinations in Da Lat. Last year, it welcomed 47,000 passengers.

The Government has allowed the private area to participate in the re-construction of the railway, as the whole railway will be restored to its primary state.
Once finished, the railway is expected to enhance tourism in the mountainous and central coastal provinces. The rout which has 5 tunnels through mountains, 46 bridges and 14 stations, will be restored for train travel at the speed of 35 to 70km per hour.
Source:VietNamNet/Viet Nam News

An agreement on visa exemption for diplomatic and official passport holders signed between Vietnam