HCMC authorities will upgrade the wharf and the pier of Bach Dang Wharf and map out a zoning plan for other wharfs and piers in districts 1, 8, 9, Can Gio and Cu Chi to develop river tourism, a city official said.
Nguyen Viet Anh, director of the Travel Management Division of the city's Department of Culture, Sports and Tourism, said most of river tours in the city start from Bach Dang Wharf. The municipal government therefore has asked District 1 to upgrade Bach Dang Wharf and re-allocate piers to prepare for developing river tourism into a key service for the hospitality industry in 2013.

Besides, the five districts of 1, 8, 9, Can Gio and Cu Chi and the HCMC Department of Transport will jointly draft the zoning plan for building wharfs and piers as well as developing destinations to boost river tours in the localities.

"Related sides are working on the zoning plan and will submit it to the local authorities this quarter," Anh said.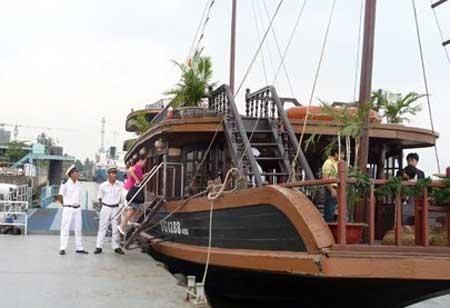 One tourist gets on a tourist boat at HCMC's Bach Dang Wharf.
The city at first will build a pier in the Vietnam tourism park named Mot Thoang Viet Nam (A Glimpse of Vietnam) in Cu Chi District besides upgrading other piers in Vam Sat and Dam Doi in Can Gio District, Tam Thon Hiep and the Can Gio Biosphere Reserve.

"The city plans to upgrade deteriorated piers this year and build new ones later, with investment capital set to be funded by local budget and investors," he told the Daily.

HCMC now has river tours connecting Bach Dang Wharf with districts 2 and Binh Thanh. The city is looking to develop one river route heading to District 8 as "the urban river route" running through districts 4, 6 and 8 to create a landmark for the local river tourism.

Source: SGT

An agreement on visa exemption for diplomatic and official passport holders signed between Vietnam