More than 5,000 local and foreign tourists took express trains to Lao Cai Railways Station on April 28 to spend the four-day holiday enjoying the cooler weather in the tourist town of Sapa
The Lao Cai provincial Bus Station mobilised more than 200 coaches and 100 taxis to transport the tourists to Sapa.
Tuoitre newspaper reported that National Highway 4D was crowded with long lines of coaches and taxis, making their way from Lao Cai city to Sapa town.
Local residents in Lao Cai city also took their families to the famous tourist destination, ramming up traffic flows en route to Sapa even further.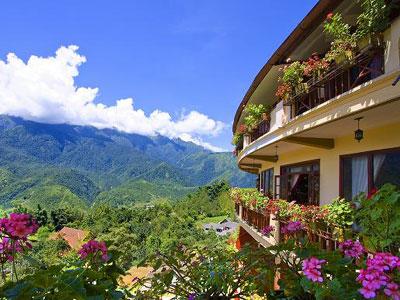 Local authorities said the number of holidaymakers to Sapa on April 28 surpassed the expected 10,000 mark.
Le Manh Hao, an official in charge of culture and sports in Sapa district, said more than 160 mini hotels and guesthouses in the tourist town are fully booked.
If the number of tourists continues to increase in the coming days, nearby tourist villages and private guesthouses will have to help out with accommodation for the holidaymakers, he said.
According to Hao, tourist villages in Ta Van, Ta Phin and Ban Ho, about 5-10km from Sapa town, have all been refurbished to welcome visitors. Indigenous specialities such as black chickens, fish from the streams, free range ducks and bamboo shoots have also been reserved to serve tourists.
The 2012 Sapa Tourism Week began on April 27 with the annual "Festival in the Clouds," attracting thousands of spectators.
On the evening of April 28, a culinary festival will be held, introducing visitors to local dishes such as cơm lam (rice cooked in bamboo tubes), thắng cố (a mixture of pork, beef, buffalo and horse meat), wild boar, black chickens, salmon, phở chua (sour noodles), mèn mén (steamed corn powder), and corn and rice wine.

An agreement on visa exemption for diplomatic and official passport holders signed between Vietnam