Visitors to the northern province of Dien Bien know Muong Phang used to be the headquarters of Viet Nam's army during the battle of Dien Bien Phu. However, few realise that on the island in the middle of Pa Khoang Lake is a beautiful garden of cherry trees which mark the friendship between Viet Nam and Japan.
I visited Muong Phang cherry garden at the invitation of Pham Duc Hien, the director of the province's Department of Agriculture and Rural Development. I knew cherry trees were planted in Ha Noi, Da Lat and Sa Pa, but not in Dien Bien Province.
It's 20km from Dien Bien City to Pa Khoang Lake, and another 10 minutes by boat to "cherry island". A hillside covered in pink cherry flowers could be seen from hundreds of metres away on the day I arrived. The 50 cherry trees, many of which stand 6-7m tall, are named Higan Zakura, with flowers in red bundles of various shades, from the roots to the tops. Their blossoms last up to three weeks.
Japanese experts were on the island when I arrived. They were among staff working on developing Dien Bien's economy. They seemed to be very interested in the cherry trees, taking photos and referring to science books.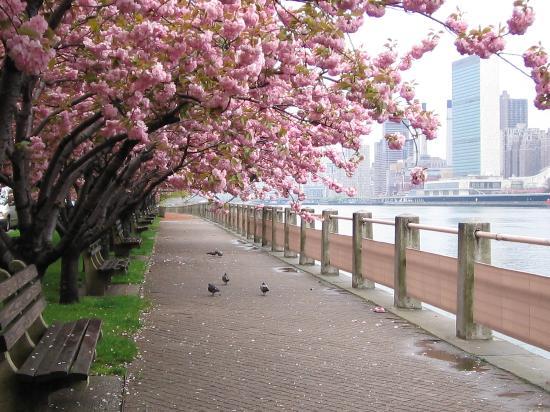 "Standing in the middle of the cherry garden, I feel as if I am at home", says Hiro Miyazono, an expert of Jica Tokyo Centre and also head of Susform-Now project. "I have been to 50 countries in the world but only three – the US, Kenya and Viet Nam (Dien Bien Province) – grow cherry trees.
"Those planted in Kenya were brought along by Japanese experts, but not many. In Dien Bien, on the contrary, the cherry trees were planted by Vietnamese in such a beautiful and romantic place, which demonstrates that the friendship between the two countries has developed very profoundly."
Hiro says he is lucky to have the opportunity to contemplate cherry blossoms now, while his friends back in Japan will have to wait for two more months.
Tran Le, 66, manager of the island and also director of Muong Phang Joint-Stock Company, which is working in agricultural and forestry technology, said previously he had established an economic relationship with Japanese friends, involving the processing and importing of agricultural products. Learning that Le was a biological researcher, his partners gave him 10 cherry tree seeds to try growing in Viet Nam. Even though his company had many divisions in many provinces across the country, he still decided to try planting in Muong Phang due to its suitable soil condition and historical meaning.
With 10 seeds, Le grew nine trees, five of which were given back to Japan and the other four were planted and started to flower on the island after three years. From these four initial breeding trees, he has 500 cherry trees in the garden, 40 of which have blossomed.
With five allocated hectares of land, Le plans to cover the island in the middle of Pa Khoang Lake with cherry trees. He has also given the local department of agriculture nearly 600 trees to plant widely in other areas of the province.
His company is also planting and studying over 40 kinds of flowers, and has just given birth to a scarlet cup flower that has never been found anywhere in the world. This flower is going to be named Muong Phang Cup Flower.
Pa Khoang Lake is located amid the Muong Phang primeval forest, where General Vo Nguyen Giap placed his headquarters in the battle of Dien Bien Phu against the French occupation in 1954.
Since 1970, the lake has been renowned for the location of a man-made irrigation project, built by the labour of thousands of voluntary youths. The lake covers an area of 600ha, with an average capacity of nearly 40 million cubic metres, providing water for irrigation of the whole local arable land.
In the middle of the lake are islands with luxuriant trees and many kinds of animal refugees all year round. The planting of cherry trees in Pa Khoang will attract more visitors to this historic land. From these initial cherry trees, the local agricultural branch has started to grow successfully at the Tay Trang international border checkpoint and are planning to plant the trees at major gateaways to Dien Bien Province.
VNS

An agreement on visa exemption for diplomatic and official passport holders signed between Vietnam