Vietnam welcomed 6.8 million international arrivals in 2012, marking a year-on-year increase of 13.86 per cent and bringing revenue of nearly US$7 billion, although improving the country's tourism services could boost the figures some more.
The number of Vietnamese who travelled abroad also rose 20 per cent against 2011 with spending hitting $3.5 billion, reported the Vietnam National Administration of Tourism (VNAT).

According to Vu The Binh, deputy chairman of Vietnam Tourism Association, the favourite destinations for Vietnamese tourists were China, Thailand and Cambodia. Binh said spending on overseas travel was quite high.

Vietnam still had potential to attract more visitors with its stunning landscapes and historic monuments, but a lack of investment and a tendency to focus on short-term profits were holding the sector back.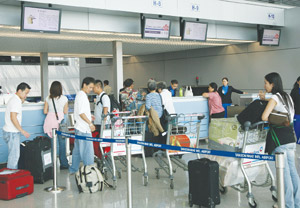 The number of travel agents is growing quickly but their quality is getting worse. Many are only interested in making a fast buck, and sell substandard tours that are different from what they advertise.

Some local tourist destinations are also sleazy, degraded and messy. Overseas tours are becoming much more affordable, and other countries are focusing much more on the quality of their tourism services. The prices of international airfares have also fallen, making overseas tours more attractive.

It must be ackowledged that international tourism services in Vietnam remain primitive. Many local travel companies are unqualified but still organise outbound tours. Some also purchase overseas tours to resell to Vietnamese customers and are not interested in customer service.

According to a representative of the Vietnam National Administration of Tourism and Vietnam Tourism Association, the establishment of an international tourism association was necessary in order to unite travel agents and create a healthy business climate. It would also protect the interests and position of Vietnamese travellers. He noted that Vietnam's tourism industry may lose its market share to foreign competitors if it did not pay attention to developing the domestic sector.
Internet

An agreement on visa exemption for diplomatic and official passport holders signed between Vietnam