A luxury bus service between HCM City and Phnom Penh has began in HCM City as a private-public co-operation effort to have more Vietnamese tourists to visit Cambodia. The service was launched on Friday by the Cambodian Tourism Ministry and NagaWorld Group.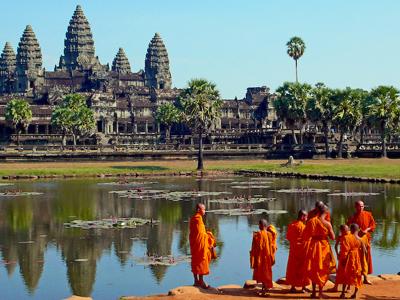 Thong Khon, Cambodia's Tourism Minister said "This is one more effort to strengthen the good relationship between Viet Nam and Cambodia in tourism sector,".
By opening a representative office in HCM City and a fleet of 20 28-seat luxury buses (video, massage seats, toilets) at a cost of US$3 million, NagaWorld will supplies six trips a day from HCM City to Phnom Penh and back.
In the future, the company will expand the bus service to two other Cambodian destinations, Siem Reap and Sihanoukville.
NagaWorld also launched a three day-two night Free&Easy Tour for just $125 a person, which includes luxury bus transportation from HCM City and back, accommodation at the five-star NagaWorld Hotel in Phnom Penh, six meals and a half-day city tour.
In 2011, Viet Nam ranked first in terms of the number of tourists visiting Cambodia at 600,000, or 21 per cent of all international visitors. In the first quarter of this year, 179,000 Vietnamese visited Cambodia a year-on-year increase of 18 per cent.
"The service will also contribute to increasing the number of Cambodians visiting Viet Nam for tourism, education and healthcare," said Nguyen Thi Hong, vice-chairwoman of the HCM City People's Committee.
It is estimated that a large amount of Cambodians visiting Viet Nam for Vietnam travel guide has increased by 30 per cent annually over the last many years. Vietnam and Cambodia now have 8 border checkpoints on land and two on water. The 2 nations have reached a cross-border transportation agreement under 19 companies are operating 39 trips with 300 buses that travel from HCM City to Phnom Penh each day.
Source:vietnamtravelblog

An agreement on visa exemption for diplomatic and official passport holders signed between Vietnam