A 25kg baby hippopotamus gave birth at Dai Nam Park in the southern province of Binh Duong on July 3.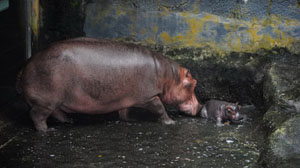 The small hippopotamus, whose sex has not been defined yet, is the baby of a couple of hippopotamus bought from Israel more than 3 years ago. The couple had the baby naturally. At present, the baby hippopotamus are able to swim and suck its mother's breast with Vietnam guider's information.

In 3 years while living in Vietnam in a cage of over 200sq.m at Dai Nam park, the hippopotamus couple, which cost Eur17,000 each, have developed very well.

The female hippopotamus is more than 1.5 tons and the male hippopotamus is around 2 tons in weight. Their food is elephant grass, which is available in Vietnam.

Hippopotamus is listed as a highly endangered species in the world.

Dai Nam Park has successfully multipled 14 species of rare animals, like Indochina tiger, South Africa squirrel monkey, blue wildebeest, etc.

A white lion as well as a white tiger at the park are pregnant and will give birth on this July.
Source:vietnamnet

An agreement on visa exemption for diplomatic and official passport holders signed between Vietnam