Rong House, also known as Kon Tum Communal House, is a special architecture of the ethnic minority groups living in the North of Central Highlands region. Visiting this type of house, tourists in Vietnam travel will enjoy its imposing traditional beauty.
Rong House (often called The Kon Tum Communal House) is a special architecture of local peole. This type of house can only be found in villages in the north of Central Highland region, especially in Gia Lai and Kon Tum provinces.
Rong house is a special type of stilt houses which is much more spacious with imposing traditional beauty. It is often located in the center of the village. Most of the community activities such as meeting, wedding ceremonies, praying ceremonies take place at Rong House. It is also the place for welcoming guests with Vietnam travel guide.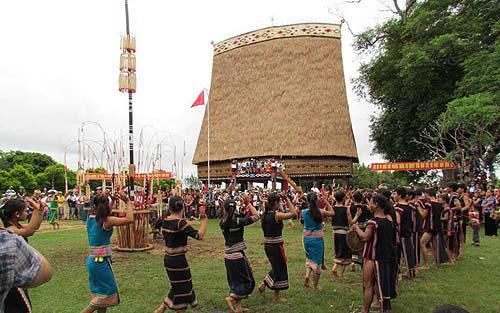 Rong House- Kon Tum
Each ethnic minority group has specific architectural style for designing and decorating the Rong House. However, most Rong Houses share common features. In the village, it is often the biggest thatch-roofed house with 8 big pillars made of wood.
The rafters are decorated with patterns of bright colors, depicting religious scenes, legendary stories about ancient heroes, stylized animals, and other familiar things often seen in daily life of local people. The most outstanding feature of the décor of the Rong House is the image of the brilliant God of Sun.
The Rong House is a cultural symbol of Central Highlanders, a longstanding and long-lasting culture. It is believed that, the bigger the House is, the wealthier the village shall be.
Rong House is not only the pride of local people, but also an attractive- tourist destination in Vietnam travel. Tourists coming there will enjoy imposing beauty of the house as well as its traditional value.
Internet

An agreement on visa exemption for diplomatic and official passport holders signed between Vietnam