Famous dancing couple Vuong Linh and Dang Hung, as well as their daughter Linh Nga, will launch a new variant of the "Sen" (Lotus) show on January 30 and 31 at Ho Chi Minh City's Opera House.
Linh Nga, 30, who has pursued a career in traditional dance since she was young and spent decades of her childhood training in China, is the major choreographer and leading dancer of the two-night performance.

The show, which is said to combine distinctive features of many Vietnamese dances, will gather around 117 dancers of different ages from Bong Sen (Lotus) Theater of Traditional Music and Dance.

"Lotus" marks Nga's comeback after months of maternity leave.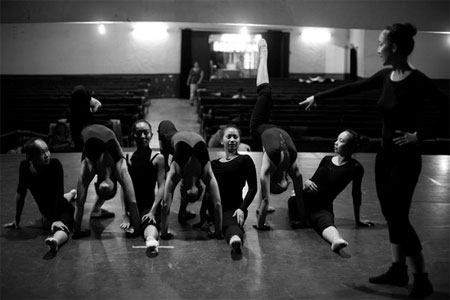 The show premiered in August 2011 and was a great success. However, this year, it will be much more interesting with more dancers and additional pieces, Nga has said.

At a press conference last week, Tran Ly Ly, co-choreographer with Nga in the show, said that it is a waste of time and money when many high-investment shows take place for just one or two nights.

Noted dancer and choreographer Dang Hung said that he, as well as Bong Sen Theater, wants to expand the show into a national art program.

"The show will have a fixed performing schedule. First of all, we hope to maintain around 24 live shows per year. It will not only serve local dance-lovers but also international tourists in Ho Chi Minh City," Hung told the press.

Nga said that "Sen" could become the city's version of Bali's Barong Dance or Pattaya's Tiffany transgender show.

"Frankly, foreign tourists do not have a lot of entertainment choices when they visit Ho Chi Minh City, especially nightlife. A traditional dance seems to be a good choice to fill in that blank. Local dancers will then have more chance to meet and hone their skills."
Thanhniennews

An agreement on visa exemption for diplomatic and official passport holders signed between Vietnam