Rice planting season is considered as the most beautiful season in the Sapa Highland's and it has always attracted a large number of photographers and young tourists.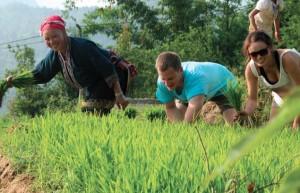 For the last number of weeks and for about another week more, Sapa residents are busy growing rice. It's an interesting season to go to Sapa as tourists of Vietnam guide are given an opportunity to find out the importance of rice because it attaches the local people and Vietnamese cultures.
One month previous preparations would have begun. Preparing the rice paddies by turning the soil, removing unwanted vegetation, as well as directing water to start the long process of filling them up. Some selected paddies were also seeded to produce the seedlings that are currently being planted.
This year's lack of water has made for challenging situation for some of the villagers. Some have had to make the difficult decision to plant corn instead of rice in the paddies at higher elevations.
Tourists for Vietnam travel guide are encouraged to visit Sapa this time of year to know about how the rice is grown. It is a dirty, back-breaking job apart from an experience worth trying!
Vietnam culture travel runs trekking and home stay tours to and around the Sapa region. For more information follow this direct link to their Sapa tours.
Source: vietnamtravelblogs

An agreement on visa exemption for diplomatic and official passport holders signed between Vietnam