Ba Vi National Park is located in Ba Vi District of Ha Tay Province and 2 districts of Hoa Binh Province, namely Luong Son and Ky Son, about 50km west of Hanoi.
Situated on a mountain range running north-east and south-west with its peak at Dinh Vua Peak of 1,296m; Tan Vien Peak of 1,226m and Ngoc Hoa Peak of 1,120m, the Ba Vi National Park covers an area of 7,377ha, including more than 1,500ha of pristine forest.
The park is home to more than 800 rare and exotic plants, 280 of which have medicinal applications. It also boasts 44 species of mammal, 15 species of reptile, 9 species of amphibian and more than 100 bird species of Vietnam travel guide. Ba Vi is also home to hundreds of relics dating back a century or more to the French colonial era. There is a former military training range and a church between 600m and 800m above sea level.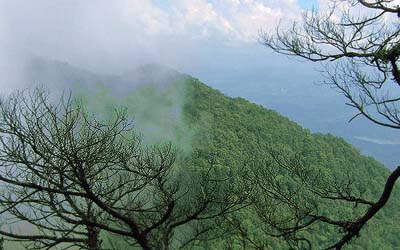 On the way up the hill, visitors stop a few times to view the surrounding landscape. Off in the distance, shadows of mountains disappear into the clouds, streams wound their way through the valleys and paddy fields spread out toward the horizon.
It is a lyrical and inspiring vista. As reaching the 800m altitude, visitors will suddenly shroud in mist. As it is not clear to see far ahead they have to drive slowly. But within a few minutes the mist is clearing to reveal sunshine. They all feel romantic amid spectacular scenery.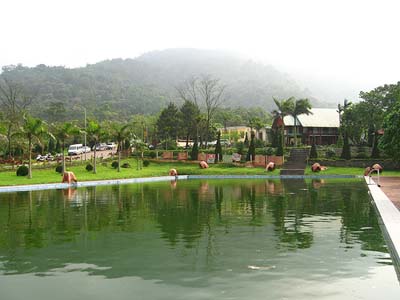 After about 45 minutes of slow but steady ascent visitors stop at the 1,100m altitude. The road forked here, with each branch leading to a different peak. The peak on the left, named Dinh Vua, will lead them to a shrine dedicated to President Ho Chi Minh.
To the right was Tan Vien, a shrine to Saint Tan Vien, one of the immortals in the mythology of the Vietnamese people of yore. Finally, they will reach the peak at 1,227m, where the Tan Vien shrine was built in the 11th century in honour of a legendary hero who had helped Vietnamese in their hard struggle against the super natural.
Internet

An agreement on visa exemption for diplomatic and official passport holders signed between Vietnam