Art of making vitreous enamel items has been neglected into oblivion, collectors lament
Vases coated with vitreous enamel in a Vietnamese collection. Very few of them are left in Vietnam and efforts to preserve the old ones as well as make new ones have floundered, experts say.

Vietnamese people learned how to make vitreous enamel objects from China and made the skill their own with unique innovations, but the "glorious" art has apparently disappeared forever, a young collector said regretfully.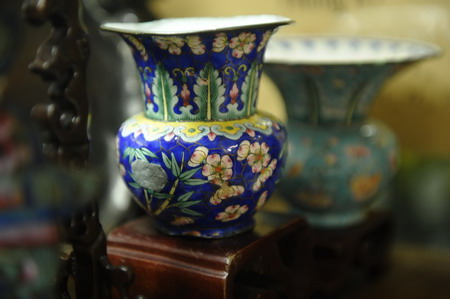 The objects are called after its special coating, "an integrated layered composite of glass and metal," which is made by fusing powdered glass to a substrate by firing, a Wikipedia entry explains. "The powder melts, flows, and then hardens to a smooth, durable vitreous coating on metal, or on glass or ceramics."

Most of vitreous enamel products in Vietnam are bronze items coated with enamel, and are known in Vietnamese as phap lam.

Some researchers believe the name came from a Chinese word indicating enamel-coated objects that Western missionaries had instructed Chinese people to make.

All Vietnamese porcelain enamel items were made in Hue during the Nguyen Dynasty (1802–1945), the country's last ruling family.

Historical records say that the two Nguyen kings, Gia Long – the first emperor and his descendent Minh Mang, had invited many Chinese artisans to help with the construction of the Hue Citadel during their reigns between 1802 and 1840. The Chinese were in charge of making bricks, roofing tiles and phap lam items for decorations.

The phap lam items, like bowls, plates, trays, vases, jewelry and snack boxes were used and displayed only at imperial places, or used as censers for worship.

Some Vietnamese painters in charge of decorating the citadel learned the making skills from Chinese artisans while working together. However, Nhu Anh Tin, a major collector of porcelain enamel items in Vietnam, said Vietnamese artifacts are much more than copies of Chinese work.

"Vietnamese people gradually made additions, invented new products based on their own ideas, interest and demands, and gave birth to a line of distinctly Vietnamese phap lam," Tin said.

The 32-year-old collector, one of the youngest members of Ho Chi Minh City Antiques Association and its secretary, said he was hooked by the phap lam items' colors.

Nhu Anh Tin, a young collector from Ho Chi Minh City, holds a vitreous enamel bowl made in Hue during the 19th century. He says Vietnamese craftsman learnt to make them from Chinese colleagues, but brought their own creativity to it.

"Porcelain enamels have the best, brightest colors, unlike other antiques that tend to look a little dark or tainted. They always look fresh and new, and no one would think they were nearly 200 years old," he said.

Tin said he started collecting antiques 13 years ago, when he was a second-year student at HCMC University of Technology. He was influenced by many books about Vietnamese and international culture that he read, including those authored by Vuong Hong Sen (1902-1996) – a scholar, culture researcher and antique collector respected for his great knowledge of southern Vietnam.

"Then it just got into me," he said.

He found his first porcelain enamel item in 2004 in France, where he was studying for a Masters degree. He was walking around an antique market and an object with colorful patterns made of bronze and coated with enamel caught his eye.

He managed to read the four Chinese letters at the bottom of the object and learned that it was made during the reign of King Minh Mang. "It was an interesting surprise, finding an item from Vietnam that had drifted there."

Tin began expanding his collection after he returned to Vietnam. But it has been hard, he said, adding Vietnamese phap lam has received little attention for at least a century.

Besides some items around relic sites in the former capital, very few can be found in the country. Many items were taken to France by the royal families that sought refugee there amidst the political upheavals in 1945, and many others were taken there by French soldiers who attacked the Hue Citadel in 1885.

People in Vietnam have not talked about the art for a long time, and collecting them has never become a trend, Tin said.

The Vietnam History Museum in Ho Chi Minh City has just one phap lam artifact left by Sen, the late cultural researcher. It is a small bowl made during the rule of King Minh Mang, and is now displayed in a corner of a cupboard along with many glass objects.

"If you walk around all antique markets from north to south, you might still fail to find a single artifact from Hue. Most of them are from China or Japan," Tin said.

He said his current collection of around 30 items made under Nguyen kings Minh Mang, Thieu Tri and Tu Duc is a result of patience, love and luck.

"You are really very lucky if you can find around five items a year."

Tin said Vietnamese phap lam deserves more attention, reiterating that it is not simply a copy of Chinese items.

"The technology of Vietnamese porcelain enamel has not reached the level of sophistication of Chinese, but anyway, those artists from Hue have proved the creativity of Vietnamese people, marking a milestone in Vietnamese fine art history," he said.

The collector said only experienced collectors could tell the difference between Vietnamese and Chinese porcelain enamel, and he had to pay some collectors to learn it himself after he bought Chinese objects by mistake.

According to him, one clear difference is that the patterns on Chinese vitreous enamel are flat while those on Vietnamese ones are rough. "Vietnamese artifacts also have their distinctive colors."

He said in making phap lam objects it is hard to make sure the metal frame and enamel coating stretch to the same extent when they are heated in the kiln.

The enamel would break if the metal stretches more, or it would flow all over the metal and spoil the patterns.

Experts in Hue have failed many times in their attempts since 2000 to recover the old objects, and have admitted that they have let the tradition be lost for 200 years.

Officials from Thua Thien-Hue Science and Technology Department and those from Hue Citadel Preservation Center have said they have no idea about the old techniques.

They do not have the materials to make enamel, and they don't know how to add colors to it.

In some preservation efforts, they tried painting colors to old items but the colors washed out after a year or so, and made the artifacts look even worse.

In 1996, the center sent a group of experts to visit factories in Beijing and Guangdong, but the study trip failed as the Chinese did not want to disclose the techniques to others, the officials said in a The Thao & Van Hoa report
Thanhniennews

An agreement on visa exemption for diplomatic and official passport holders signed between Vietnam