The central province of Quang Tri on January 27 held the Arieu Ping and gong festival in Ta Rut commune of Dakrong district to honour the traditional cultural values of local ethnic minority groups.
The festival featured a wide range of activities such as procession and incense offering ceremonies, gong performance, a buffalo festival and an archery contest together with folk music and dances with the hope for a happier and wealthier new year.

Arieu Ping is the biggest festival of the Pako ethnic minority group to pay homage and tribute to the deceased.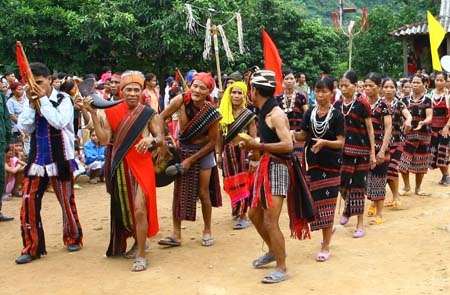 Meanwhile, gongs have been used to celebrate special occasions, including new house celebration, grave leaving ceremony, weddings, ritual parades and funerals for more than 3,000 years in Vietnam. Gong culture is an inseparable part of the ethnic minority groups' spiritual life as it is seen as a tool that helps them connect with the heaven.

The festival has been held in rotation among communes in Dakrong district to welcome the new year.

VNA

An agreement on visa exemption for diplomatic and official passport holders signed between Vietnam