Xoi khuc (xôi khúc), also known as khuc cake, has its name because the cake cover is made by glutinous rice powder mixed with brayed khuc leaves, covering gram and pork.
Although, xoi khuc is popular through the country, only the one of Hanoi is considered real khuc cake and helps eaters to feel its taste totally. They get this interesting feeling when eating as well as blowing, the white glutinous rice coats the soft good-smelling powder layer and just after a lightly bite diners can see the greasy gram filling layer.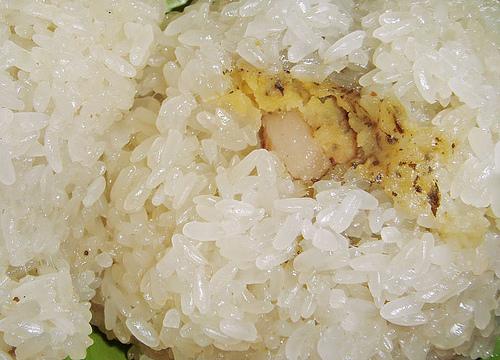 Xoi khuc is made of brayed glutinous rice mixed with khuc leaves. Glutinous rice for making khuc cake is always choosen carefully to ensure that the cake will be soft and tender. Khuc leaves, the important part of khuc cake, are well brayed to obtain the mash liquor which is mixed with the glutinous powder then kneaded well later.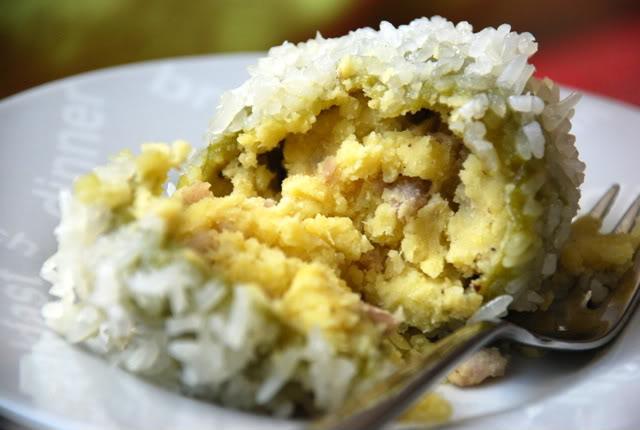 To make the filling of the khuc cake, people treat the cover, steam, bray well, mix gram with pork then embalm this mixture with enough pepper spice and salt. When making cake, round the filling to form the equal parts, take enough amount of powder, put the filling into the powder layer, round the whole product in order to make the cake tight.
When steaming, after one layer of glutinous rice, a cake layer is putted and the work has been continued until the grill is full. It takes about 45 minutes to finish a product and the product has a very good-looking glutinous rice coat.
The khuc cake shop Quân at 35th Cau Go Street, Hoan Kiem district is a famous location for those who want to enjoy khuc cake in Hanoi. People can enjoy khuc cakes, hot tea and quietly listen to the sweet voice of Hanoians… there.
According to the owner of Quân shop, his family have sticked with heralding voice "Here khuc cake is" every morning. Formally, khuc cakes was putted in the basket of women for sale along the old streets such as Hang Bac, Hang Than… but now the owners can stay at home to receive the orders through the phone.
Missing the unique taste of khuc cake, some Hanoi families living in the foreign countries still commission their friend to order khuc cakes sending to them. Enjoying khuc cakes, people can feel not only its soft, good-smelling, greasy taste but also the miss, the stories of Hanoians.
If having chance to visit Hanoi, guests is recommended to try khuc cake and it can be sure that they will be addicted to this special dish of Hanoi.
Internet

An agreement on visa exemption for diplomatic and official passport holders signed between Vietnam