In order to develop tourism effectively and sustainably matching with potentials and advantages of the province and to catch up with tourism development of other provinces, the orientation for tourism development has been outlined in Resolution No. 01-NQ/TU dated 10 April 2006 by the Executive Board of provincial Party Committee as follows:
Ha Giang is a frontier mountainous province in Northernmost of the Viet Nam, having an important position in the socio-economic development, defense and security. It shares border with China to the north (over 270km). Ha Giang's diversified topography includes karts plateau, caves, diverse flora and fauna.
The province is home to 22 ethnic groups, each of which preserves and stores its own unique cultural values and specific characters. Thanks to those potentials, the province has many advantages to develop tourism, especially eco-tourism, adventure tourism, cultural tourism, etc.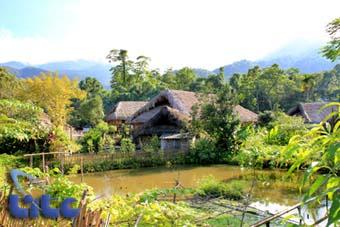 I. Current situation of tourism development

In 2001, there were only one tour operator and 32 hotels with 195 rooms. In 2005, there were 3 tour operators and 69 hotels with 815 rooms including 11 classified hotels. Tourism income revenue increased from 39.7 billion to 82 billion VND between 2001 and 2005. At the same time, the number of tourists to Ha Giang grew from 37,650 to 144,828 arrivals.

II. Point of view and objectives

1- Point of view

- Considering tourism as a leading economic industry of the province. Diversifing tourism and service forms: cultural-historical tourism, festival tourism, ecotourism, handicraft village tourism, adventure tourism, spiritual tourism; hot mineral water bathing for medicine purposes, leisure services in weekends…

- Encouraging all economic sectors to invest in Vietnam travel guide.

- Developing tourism combined with protecting ecological environment and preserving cultural characteristics.

2- Objectives

- Developing tourism while ensuring national defense, security, landscape embellishment and ecological protection.

- Developing cultural festival tourism along with local culture preserve, absorbing mankind knowledge

- Linking Ha Giang and surrounding provinces. Developing planning strategy for provincial tourism development.

- Exploiting available potentials and advantages to develop tourism areas in order to make breakthrough steps.

3- Specific objectives:

The objectives for provincial tourism development up to 2015 include:

- Average tourism growth rate of about 17% per year.

- Receiving 170,000 tourist arrivals in 2006; 600,000 in 2010 and 1.2 million in 2015.

- Tourism revenue gains 95 billion VND in 2006; 200 billion VND in 2010 and over 500 billion VND in 2015.

- Tourism infrastructure: There will be one, two, three 3+ star hotel in 2006, 2010, and 2015, respectively.

- In 2010, establishing from 2 to 3 cultural tourism villages in every districts combined with protecting ecological environment; making plan and investing to develop recreation and public sites. Focusing on training, creating jobs for 2,000 to 3,000 employees in tourism sector.

- Mobilizing some 400 billion VND for tourism investment period 2006 -2010 gains.

4- Specific tasks:

- Paying attention to build and promulgate management mechanism, policies for investment incentive, and infrastructure development. Training management and professional staff of enough qualifications to meet immediate and long term requirements.

- Completing detailed planning of tourist attractions, formalization of tours in the province infrastructures integrated with domestic and international tours

- Completing construction in tourist sites of Tien stream, Cam mountain, Ha Phuong water park, Quang Minh lake, Thanh Ha tourist area, Tay Con Linh tourist area, Nan Ma cultural and historic site area, ancient rock field, Vuong family vestiges (Xin Man District)…; developing ecotourism in Nam Ma, Noong lake, Tung Ba, Khe My, Thong Nguyen caves…; embellishing and restoring Sung Khanh Pagoda (Vi Xuyen District), Binh Lam Pagoda (Phu Linh District), Mau temple (Ha Giang City)…

- Diversifing tourism and service products, developing quality products to attract visitors.

- Establishing community-based tourism villages in every districts (from 2 to 3 ones each district) along the tourist routes in order to develop community tourism and ecotourism meeting demand of visitors. The northern districts will plan peach flower trees to attract visitors to Peach Flower Festival in spring.

- Completing infrastructure building in tourist sites

- Promoting investment to tourist sites including Tam Son (Quan Ba), Lung Cu, Vuong family vestiges (Dong Van District), Ma Pi Leng peak, Khau Vai love market (Meo Vac District), Cang Bac Me (Bac Me District), Xin Man ancient rock field (Xin Man District), Thong Nguyen (Hoang Su Phi District)…

- Continueing to enhance capacity building in management, organization of tourist services.
Vietnamtourism



An agreement on visa exemption for diplomatic and official passport holders signed between Vietnam