Ket Mountain in Tinh Bien district, southern province of An Giang, was formerly deserted where some small paths were created by locals. Over the past few years, Ket Mountain has been acquainted to pilgrims.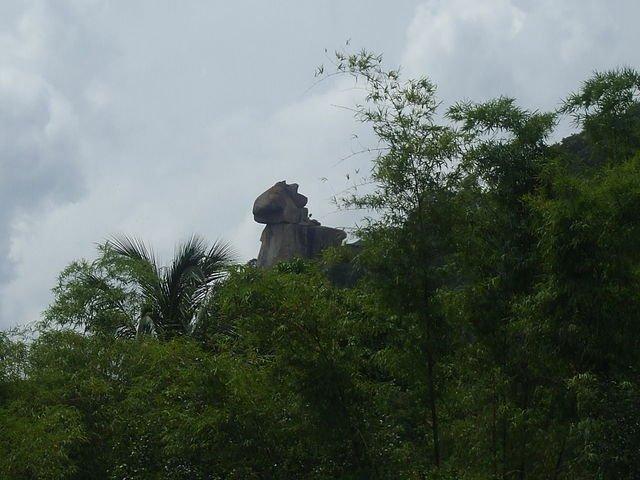 The mountain was known as Ket (Parrot) as a result of a giant rock that appears just like the head of a parrot on the highest of the mountain. The mountain slope is so steep that it will disappoint any mountaineers, especially within the hot season. Climbing up the mountain, tourists should now and then take a rest before arriving at a temple in-built the center of the mountain. Sitting on a bench underneath the shade of a Bodhi tree, travelers can have a peace of mind feeling.

Ket Mountain has up to 20 religious sites. It additionally has abundant caves, thus within the past, 2 Buddhas and 12 people came here to steer their religious lives. This, in turn, attracts quite a couple of pilgrims, particularly Buddhist followers.

Huynh Long Temple was located in a large rock next to an big yard. Legend has it, this can be the place where Phat Thy Tây An (Buddha Master of Western Peace) and his followers meditated. Guests are shocked by the wonder and fresh air of the temple as if they were lost within the fairyland.

U Minh Temple has several statues of green and white snakes, and statues of buffalo-headed and horse-headed executors with their sinners in a cave. Coming into the cave of the nearby Bodhisattva Temple, tourists can see the Ta Lon Mountain of Cambodia from afar.

In spite of hot weather, trees on the mountain peak are still green and tourists feel the cool air. The fairy well and yard make travelers forget their tiredness and try their best to climb onto the 200-square-meter rock known as Sân Tiên (fairy yard) where Huynh Phu So, a spiritual head, the Buddha Master of Western Peace and gods used to speak with one another.

According to documents of Bu Sn K Hng (Strange Fragrance from the Precious Mountain) area, mystic Doan Minh Huyen (who became Buddha Master of Western Peace later) went around to treat fatal diseases for people. Later, he founded T Ân Hiu Ngha area to increase deep gratitude to ancestors and parents, country, Triratna, compatriots and human beings. His tomb is located behind the traditional pagoda of Tay An at the foot of Sam Mountain. The second Buddha of Ket Mountain was Huynh Phu so, who founded Hòa Ho area primarily based on Buddhism.

Strolling around huge rocks and a staircase surrounded by iron barriers, guests can reach the fairy well on the height of Ket Mountain. Its water shines
under the daylight and is so clean, cool and sweet that a lot of pilgrims bring it home to drink gradually. There are currently apartments for pilgrims to
remain overnight on the mountain.

VietNamNet/Viet Nam News

An agreement on visa exemption for diplomatic and official passport holders signed between Vietnam