Vietnamese festivals are becoming dreary affairs, shorn off their distinctiveness and fun, culture experts warn.
A woman recently posted photos on her Facebook page of her and her husband climbing a ladder over a wall into Bai Dinh Temple, Vietnam's largest Buddhist pagoda located outside Hanoi and one of Asia's most renowned temple complexes.

"Climbing is a necessary skill when you make a pilgrimage to Bai Dinh," the woman commented on her post, pointing to the giant crowds and the relative lack of vehicles available to transport visitors to the temple's official entrance.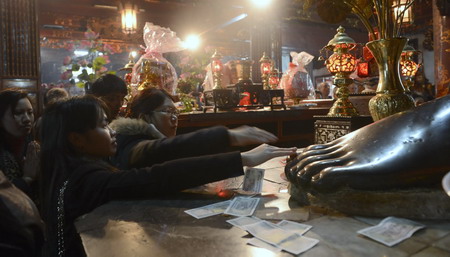 She said droves of pilgrims were dropped off more than three kilometers from the pagoda and were made to wait for what felt like forever, for electric cars to pick them up.

But then ladders suddenly appeared, which for between VND2,000-5,000 (10-25 US cents) depending on where they led – to the pagoda's gate or main yard. Police showed up to shoe away the ladder providers, but they soon returned as their service was needed, she said.

The Bai Dinh pilgrimage festival coincides with Lunar New Year and usually lasts for three months, with many shorter festivals taking place during that time.

"The first (lunar) month is the month for fun," is an old Vietnamese axiom.

For many years now, cultural experts have been voicing concerns that the fun is disappearing from traditional festivals.

Poor cultural management has caused thousands of traditional festivals to lose their folk-based distinction, which has been replaced by chaos and general disrespect for Vietnam's legendary holy figures, they said.

Hoping that it will bring them luck, many visitors to Bai Dinh now throw small increments of money everywhere, squeezing bills into the crevasses of every statue, prompting the emergence of frantic money exchange services inside and around the pagoda.

Many visitors did not mind stomping on the money which had fallen on the floor as they raced to place their money onto the statues; ignoring the irony that they were offering the gods something they were equally willing to tread upon with their feet.

Many of the statues at the pagoda are losing their color due to the constant touching from tens of thousands of visitors each day. Some of the statues have even had their fingers plucked by pilgrims wanting to bring them home for good luck.

Experts said the Vietnamese people have become more materialistic when it comes to paying reverence to the gods and holy figures.

There are now money boxes at nearly every destination of worship for people to place donations, which is seen as an easy way to pray for luck.

One such box now rests atop the Dong Da mound in Hanoi, a symbol of Vietnamese sovereignty dating back to the country's victory over Chinese invaders in 1789. The box for donations replaced an altar for incense.

"I think Vietnamese worshippers are changing strangely in the way they observe culture. More and more people are using money in an attempt to buy luck and merit," said an ethnologist who wished to remain unnamed.

The expert did not object to the giving of money, but he said the way in which such money is offered is crucial. "Otherwise, it's just like throwing money into the gods' faces, or trying to bribe them."

Luong Hong Quang, deputy head of Vietnam Institute of Culture and Arts Studies, also said the increasing trend of donating money at temples reflects the Vietnamese habit of bribery, "which sadly shows no signs of a cultural practice."

Quang said the money boxes could be easily removed, but that he suspects local authorities simply do not want to negate a good source of income.

An inspection last year found such boxes, often labeled "merit boxes," earned VND297 billion (US$14.24 million) nationwide. Larger crowds simply mean more money.

Losing 'it'

Experts said authorities have not only failed to protect festivals from the chaos of uncouth practices, but they were also too "poorly educated" to be able to preserve the festivals' folk-based traditions.

Vietnam's culture ministry listed around 8,000 festivals that used to have a significant cultural impact on local communities, and yet have deteriorated, becoming anything but that.

According to the Vietnam National Cultural Heritage Council, the traditions of most folk festivals were lost during the wars, and that many local officials are incompetent to revive even so much as a trace of them. Surveys have showed that more than 3 percent of local officials either did not make it past primary school, or were illiterate, while 48 percent received little in the way of cultural management training.

"Thus most folk festivals have become boring, monotonous affairs, as they were revived from faint memories of locals and by imitating festivals held in other locations.

"They follow a rather similar script, which is costly and hardly meaningful," said council member Truong Quoc Binh.

Binh's colleague, Ngo Duc Thinh, also expressed concerns about the increasing resemblance of festivals nationwide.

As representatives of culture, festivals should be diverse and express the distinct traits of a village and a region, Thinh said.

"That diversity is gone now as villages simply copy each other.

"Folk festivals are being threatened by their uniformity… Visitors can feel bored after several festivals," he said, noting that the main music at all northern festivals is "quan ho," a traditional form of antiphonal music indigenous to Bac Ninh Province.

He said villages should carefully conduct research before attempting to revive old traditions as they develop their festivals.

Dr. Bui Quang Thanh from the Vietnam Institute of Culture and Arts Studies mentioned one rare case when "the folks" were able to restore the authenticity of a traditional festival.

The Le Chi Nam villagers in Gia Lam District in Hanoi's outskirts were in a cheery mood last April when, for the first time in nearly 70 years, they once again celebrated the Giong Festival, which honors the Vietnamese Mountain God, who legend has it, spoke at age three, ate a lot and grew up to defeat the Chinese invaders.

The Ministry of Culture, Sports and Tourism helped reintroduce the festival which stopped being held from 1945 amid political upheavals, and "everyone has been so happy," said Nguyen Van Thieu, chairman of Le Chi Commune that includes the village.

Documents by a late professor and memories of old locals were used to recreate the festival.

They said villagers had joined the Mountain God in the battle against the Yin invaders more than 3,600 years ago.

Thus the village's festival also reenacts the battle by having people grasp the fibers of dry coconuts, which represent the heads of the Chinese enemies impaled on bamboo poles.

"Those pieces of fiber are believed to bring luck to those who manage to obtain them," said Thanh who directly helped with the festival's reintroduction.

He said ordinary people deserve to have their festivals back, with their own cultural stories, but not every community is as lucky as Le Chi Nam village, which received support from experts and historical documents in order to retrieve their festival.

Diminishing returns of UNESCO recognition

Unprotected from chaotic practices and misinterpretations of culture, many festivals have had their former splendor diminished by formal procedures drummed up by the government upon receiving international recognition.

The Giong Festival, for instance, is held in different areas around Hanoi. UNESCO has granted the Intangible Cultural Heritage title to the versions practiced in Soc Son District, where the God is believed to have died and ascended to heaven from a mountain, and in Gia Lam District's Phu Dong Commune, which is believed to have once been the God's home.

One pitfall of such recognition, which has been discussed by experts at many conferences, is the transformation of a unique cultural practice into national or international property, with locals losing their autonomy over it.

Government officials reading administrative reports, including those listing local family planning statistics, has become a part of many Giong festivals, which "really hurts the ears," Thinh said.

The same worries have been expressed about preserving the nature of the Death Anniversary Festival of Vietnam's founding fathers Hung kings, which peaks on the tenth day of the third lunar month with preparations that begin weeks earlier.

Experts said many changes have been made to the festival's pilgrimages, parades and participants since UNESCO recognized it in 2003.

A UNESCO study last year showed many visitors to the festival in Phu Tho Province outside Hanoi are now government leaders and official delegations from other cities and provinces.

Locals from Co Tich, Vi and Treo villages, which surround the Hung Kings Temple, no longer have a direct voice in the festival and now receive orders from higher authorities.

Thus, the festival is no longer a village affair to which every local contributes money and labor to enjoy, but a national activity, which has brought passivity and neglect.

A local old man said, "Once people joined the festival willingly, now each commune has asked for VND5 million ($240) in exchange for their participation."

Dr. Nguyen Van Huy from the National Cultural Heritage Council said Vietnam should moderate the government's involvement in the Hung Kings Temple Festival and increase local participation, in order to set an example for other festivals.

Huy said the festival should be returned to the common people, its rightful custodians.

"[The return] will not reduce its value as a national holiday, but will help promote its traditional folk values. The holy nature of the festival is not about the presence of high-ranking officials but the sincere and fair participation of everyone," he said.

Huy also said most of the festivals inherit cultural and political ideas from past establishments, so any intervention from a contemporary regime should be conducted delicately.

He said the government plays an important role in the preservation of culture, but that it should be limited to issuing policies and supporting cultural management training. "Local cultural authorities should think twice before inviting government leaders to directly take part in their traditional festivals."
Thanhniennews

An agreement on visa exemption for diplomatic and official passport holders signed between Vietnam