Situated in the centre of Cam Chau, 4km from Hoi An's Old Quarter, the Hoi An Chic resort is a new destination where tourists can experience rural life.
The four-star resort is an idyllic spot from where visitors can enjoy a taste of the countryside.
Pham Vu Dung, manager of Rose Travel Service company, said the newly-opened resort offered guests an exciting tour programme during their stay in the village of Vietnam travel guide.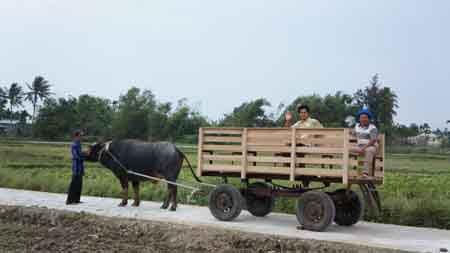 Buffalo wagon is a new tour service at Cam Chau Village – 4km off Hoi An ancient city – introduced by Rose Travel Service Agency. It's a very new tour programme in the city.—VNS Photos courtesy Rose Travel Service Agency
"
Hoi An
is a well-known tourism destination but we have tried to create a very different option for visitors to the ancient city," Dung said.
"Village life can be taken in on foot, by bicycle or in a buffalo-drawn cart as the locals go about their day-to-day tasks," he explained.
Dung said that military jeep trips along Cua Dai Beach and boat cruises along Co Co River were also available.
Rural life
There's no need to book a luxury hotel in Hoi An if you want to share life with local people.
The first morning at Hoi An Chic starts with a Taichi session followed by swimming in the open-air swimming poor on the third-floor.
The sunny pool has a great view over the village and the green rice fields surrounding the resort, where farmers plough the paddy with buffalo.
A 3km walk awaits guests after breakfast along which drinks and snacks are provided.
"Most villagers make a living on the farm and are happy to show their hospitality to anyone interested in chatting with them or even helping with their work," said tour guide Nguyen Anh Khoi.
Barbecue party is held at Cua Dai Beach during the jeeps tour programme. Couples are offered for the roman trip in beach during vacation.—VNS Photos courtesy Rose Travel Service Agency.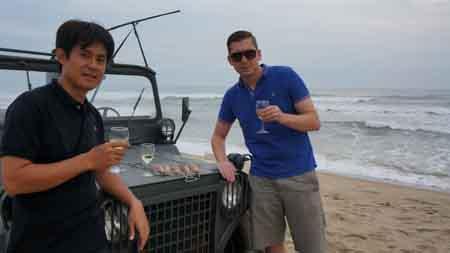 "There are also blacksmiths and rice-paper households – two of the village's traditional trades – and farmers cultivate their gardens during leisure time," Khoi described.
An eight-seat buffalo wagon is an alternative method of exploring.
"We converted the wagon to serve tourists and add a touch of nostalgia and an extra dimension to a tour of the village," the Vietnam travel agency manager said.
The travel agency also offers vintage camping on the beach.
The 10km beach is home to dozens of fishing villages and provides a romantic setting for couples.
Tour guides and staff will provide the more adventurous travellers with stoves and equipment to cook on the beach.
Khoi said that fish and seafood could be bought from fishermen to cook for lunch during the adventure, and old jeeps can be used to visit My Son Sanctuary or rural areas around the town.
Cruising and kayaking
A large sampan serves tourist with a four-hour tour along Co Co River from Tra Que Village to Cam An Village.
"It's a new experience for tourists to explore the waterways. We took out the seats so that our passengers can enjoy the cruise from comfortable mattresses on deck where they are also served lunch," said Vu Xuan Hao from the travel agency.
Jeep tours are priced between US$115 and $160, while the buffalo wagon is $50 for a group of eight.
Hoi An Chic will also run a sales promotion of 30-50 per cent discount during the first three months of this year.
"We provide free bicycles free of charge or transportation to and from Cua Dai Beach and the Old Quarter for our guests during their stay at Hoi An Chic," the agency manager said.
Source: VNS

An agreement on visa exemption for diplomatic and official passport holders signed between Vietnam