Could there be anywhere more romantic to spend Valentine's Day with your dream girl?
Okay Paris and Florence were out of my budget, but Lam Dong's flower heaven that is Dalat cannot be bettered in this part of the world.
All ladies love flowers even if they grumble how much you pay for them, when chocolates would do. My better half and I chanced upon the flower gardens perchance on that special day, in fact we both forgot the big day until a fellow tourist informed us.

I suppose heading to Cong Vien Hoa (Flower Park), which is located on Xuan Hoang Lake, which was a cheap alternative with its minimal entrance fee to showering her with roses later. Even as a man, though, you can appreciate this beauty with some wonderment. It was a spectacular scene.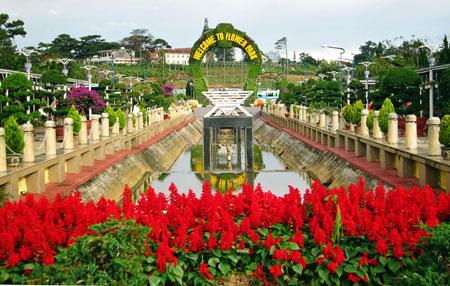 We were on a tour of the city and waited patiently as the bus picked us up at our hotel and took us the two kilometers from the city center to the park located at 2 Tran Nhan Tong, Dalat City.
I know Vietnamese people hate taking photos - it was a camera frenzy as everyone swapped Canons and Nikons with strangers as they posed with their brightest smiles. With the little windmill at the top of the hill, reminding me of cooler European climes it struck me it was roasting hot. What happened to this image of Dalat the cold central mountainous city where you can breathe in some fresh air?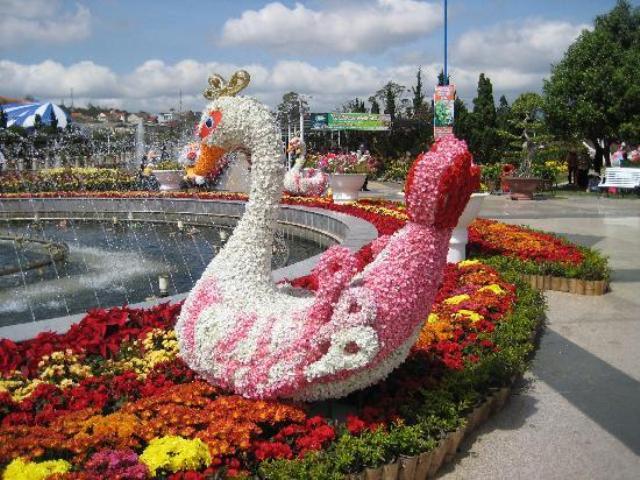 Not at Tet I was informed. Excuse me. It was a tourist hotspot that was for sure who had prepared for the worst but by the end of the afternoon were sweltering and ducking out to a local café for a cool drink.
Anyway back to the flowers. There ones we could remember were hoa lan (orchid), tulip, hoa hong (rose), hoa cuc (daisy) and hoa loa ken (lily), with some grown locally. But looking around this stunning area there must have been literally hundreds of different kinds and colors. I checked later there are over 300 varieties of flowers, hundreds of which blossom on site.
My suggestion to head out on the little white swan boat was also not a good idea due to the searing heat, a good idea in hindsight. We decided against it and sat in the little on-site cafe as and enjoyed a little moment, one we wouldn't forget in a hurry.
thesaigontimes

An agreement on visa exemption for diplomatic and official passport holders signed between Vietnam